Dr. Solomon Cogan is the founder of HealthQuest, Michigan's largest group of integrated clinics providing rehabilitation, chiropractic, and high-tech non-invasive technologies that relieve pain. He is a firm believer in the incredible healing power of these natural, non-surgical methods. Over the last several decades, Dr. Cogan has treated countless patients across Michigan – including the Detroit Lions football team for more than a decade and currently the Detroit Tigers.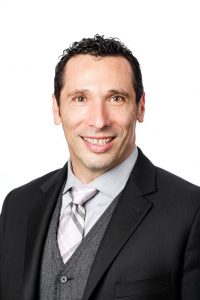 Dr. Cogan's calling was born from a devastating injury of his own. A wrestler in high school, he was severely injured after landing on his back during a match – so badly hurt, he could barely move. Fearing he'd never walk again, he visited doctor after doctor, until he found the one who changed his fate and set in motion his mission to bring hope and healing to others. Two weeks later, Dr. Cogan was the 105-pound freestyle state champion – and he'd found his future career.
After completing his undergraduate studies at Michigan State University, Dr. Cogan enrolled in the National College of Chiropractic, receiving scholarships and countless awards for excellence along the way. He earned his Doctor of Chiropractic degree from the college in 1992. From the humble beginnings of his early practice to his work with the Detroit Lions, an Olympic gold medal winning gymnast, and later with HealthQuest, Dr. Cogan has remained committed to improving lives through non-surgical care, the latest technologies and nutrition.
"We make adjustments that correct the cause of the problem instead of treating symptoms," he says. "We make the pain go away for good, not just until a prescription runs out. We employ a science that helps the body heal itself naturally, without drugs and without surgery. As a result, our patients are healthier, happier, and just plain feel better."
In addition to his many high-profile success stories, Dr. Cogan has continued to pursue the latest treatment methods for patients and works to further advance the knowledge and understanding of non-surgical treatments and technologies. He is licensed to practice in the states of Michigan, Illinois, Georgia, Delaware and Ohio. When Dr. Cogan isn't in the office treating patients, he is a frequent lecturer and a catalyst in the United States health care industry. He has spoken to more than 100,000 people in physician groups and audiences across the country over the last 25 years.
Education
Undergraduate Studies, Michigan State University
Bachelor of Science in Human Biology, National College of Chiropractic
Doctor of Chiropractic, National College of Chiropractic
Dissection of the Human Body, National College of Chiropractic
Physiotherapy, National College of Chiropractic
Certifications
Motion Palpation
X-Ray and Spinography
Surface Electromyography
Positions held
Team chiropractor, Detroit Lions (2002-2015)
Founding member, International Chiropractors Association Counsel on Fitness and Sports Health Sciences
Governor-appointed member, Michigan Board of Chiropractic
Vice chairman, Michigan State Board of Chiropractors, 2006
Vice president, Pro Football Chiropractic Society, 2006-2009
State-appointed delegate, National Board of Chiropractic Examiners, 2006-2012
State-appointed delegate, Federation of Chiropractic Licensing Boards, 2006-2012
Chairman, Michigan Board of Chiropractic, 2006-2012
Examiner, National Board of Chiropractic Examiners, Part IV, 2006-2009
President, Pro Football Chiropractic Society, 2009-2013
Honorary Fellow, Federation of Chiropractic Licensing Board, January 2013
Extension faculty member, Palmer University
Extension faculty member, Logan Chiropractic College
Extension faculty member, Life University